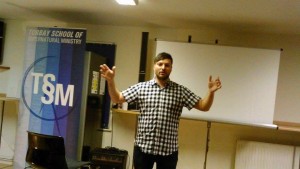 A blind woman received her sight
Today at the 26th of March 2015 I was invited to a "Jesus party", it's an interesting concept where the person hosting the event, invites unbelievers and people who are interested in God. I ministered the word of God, and then when we had prayer, a woman who was blind for two years on her left eye, received instantly healing. Jesus opened up her eye, and she was able to see well and in details. Her left eye had been in darkness, since 2013, she then had a cerebral hemorrhage. But this night Jesus healed here.
Also the guest that came thought someone had shared to me details with them, since I was able to give them specific words of knowledge about their relatives names, but we assured them that it was all God, by the grace of the Holy Spirit. A good day in the kingdom.